Suzan Samanci, berhema wê ya bi kurdî "Ew Jin û Mêrên Bi Maskê" 2015an de ku çîrok bû, bi zimanê xwe yê zikmakî silav da xwendevanên xwe. Bi çalakiyek berhemdar li pey hev çîrok û romanan dinîvise. "Çîrokên Jinên Dil Şikestî" jî 2021an de ji weşanxana "Avesta" yê çap bû û Samanci mizgîniyek jî da me ku romana wê ya bi navê "Payiz Yan jî Ziyap" jî qediyaye. Diroka herî rasteqîn di roman û çirokan de veşartiye, diroka fermî tu car li ser rasteqiniyê ava nabe, heqîqet lehengên roman, çîrok û şanoyan de ye û loma wêje dirok bi xwe ye. Engels, dibêje ku "Ez dîroka Fransayê ji pirtûkên Balzac fêr bûm." Her nivîskar, civaknasê civaka xwe ye û civaknasê erdnigariya xwe ye.
Suzan Samanci, ji 2008an vir de, gelemperî û zêdetir li Genêvê dijî. Em di roman û çîrokên wê de atmosfera Ewropa yê û lehengên dîasporayê dibînin. Pirtûka "Mîrzayê Reben" ji çîrokek "Ew Jin û Mêrên Maskê" ve hatiye afirandin. Nivîskar, ji berhema çîroka bi navê "Mîrza" romana xwe afirandiye û bi şehrezayî derûnnasekî kesên ku ji welat û bajarên xwe hatine sirgûn kirin, bi ziman, çand û erdnîgariyek cuda de hevdîtinan pêk tîne û hewldanên wan bi navgîniya lehengê xwe yê sereke li ser Mîrza dihone.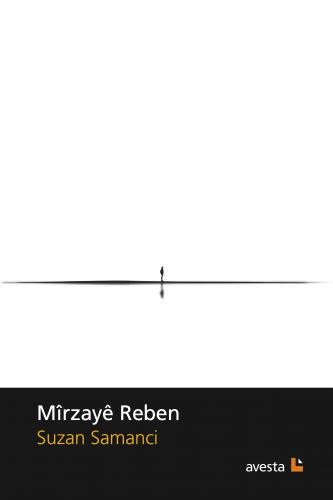 MÎRZA, DI AV JIYANEKE SEXTE DE AVJENIYÊ DIKE
Mîrza û kesayeta xwe bi her awayî hest, fikr û ramanên xwe ve lehengekî dîasporîk e û di xewn û xeyalên xwe de di nava nakokiyan de dijî. Ji xwebûna xwe dikeve şikê û ji rêwitiya hundurîn direve di nav jiyanek sexte de avjeniyê dike. Lehengekî ku di derûniya xwe de bi şêwazeke cuda û zimanekî îronîk hatiye şayesandin. Ji ber vê yekê bêguman nivîskara romanê; ji jiyana xwe ya civakî û ji erdnîgariya xwe reng û dirûv dayê lehengê xwe. Mîrza ji ber sedemên aborî diçe Ewrûpayê û xwe wekî kesekî ku ji ber sedemên siyasî dide naskirin. Ger Mîrzayê Reben hewl dide ku xwe bi derûdora xwe wekî mirovekî siyasî û rewşenbîr bide qebûlkirin. Lê belê hemû hewldanên Mîrzayê Reben, ji bo destxistina armancên wî yên veşartî de dixuyin.
Derûnnasiya diasporayê bi xwe mijarek girîng e, yên ku koçî welatê xerîbiyê dikin, ji binê sifrê dest bi jiyanê dikin, civakek nû, zimanek û candek nû bêguman ne hêsane. Mîrza li welatê xwe, di nav feqîriyê de û gundek Kurdistanê de, civakek feodal de, wek kuliyek xwe davêje Ewropayê, di nav armancên wî de, hînbûn, dewlemendbûn, navdarbûn heye, ji bo ku bigihîje van armancên xwe, her tim xwe dispêre jinên zîrek û dewlemend. Her çiqas armancên wî ev bin jî, jiyana wî ya bi maskê de tu têkilêyek, rast û baş nakeve para wî û tim di têkiliyên xwe de têk diçe. Nikare tenê bimîne, wekî xwînmijekî xwîna jinên bi adan dimije. Lê belê bi ti jinê re bi demek dirêj nikare bijî û jiyana xwe bidomîne. Mirovekî ji aliyê derûnî ve birîndar e û haya wî ji birîna wî nîne. Di têkilîyên xwe de her tim birîna wî û derûniya wî ya nebaş xwe dide dest. "Mîrza îşê xwe baş dizane, çiqas pirtûkên li ser têkiliya mêr û jinan hene wî hemû ji ber kiribûn. Ew ji aliyê xirandin û ji rêderxistina jinan hosteyekî mezin bû! Heta ji bo psîkolojiya şermê ji ser xwe bavêje û hîkarê li ser jinan çêbike çûbû qursa şanogeriyê; jinên herî ji xwe qayil jî bi hêsanî diketin dafika wî.''
Bovarîzm ji romana Madame Bovary (1857) a Gustave Flaubert (1821-1880), romannivîsê sereke yê wêjeya Fransî û pêşengê tevgera realîzmê ye; bi xebata wî ku wekî êrişek li dijî civak, exlaq û olê tê hesibandin û wekî manîfestoya realîzmê tê pejirandin. Mîrza bi helwest û tevgerên yên taybetî dişibe Emma ye. Ango Mîrza, cûdahiya di navbera derfetên rastîn ên kesane û daxwazên wî yên zêde de bovarîzm dixuye. Xewna evînek dilşewat û jiyanek spehî, rewşa Emma ji ber wê yekê ye ku wê di ciwaniya xwe de gellek romanên romantîkî xwendiye. Cîhana xeyalî ya Emma Bovary ewqasî şil dibe ku jiyana wê ya zewicî, ​​evîndarên nû yên ku ji kirînê pê ve tiştekî nake, lê belê kirin nerazîbûn û bêhêvîtiyê pê de jê re ti feyde nadin. Daxwaza ku li cîhana razdar, virtual a romantîzmê, ji rastiyên jiyanê dûr, li ser asta civakî, siyasî, aborî û hestyarî bijîn, rewşek nerazîbûnê ye.
Em dikarin bibêjin Mîrzayê romaneke wisa ku tevgera Bovarîzmê di wêjeya kurdî de da dest pê kirin û nêrînek cihêreng da wêjeyê û îro ket nav wêjeya psîkolojiyê. Bovarîzma bi serlehengê romana Mîrzayê Reben de; aciziya ji pozîsyona kesên li derdora wî, fikr û ramanên ku ew jiyanek baştir û çêtir heq dike, bi nerazîbûn, pevçûn û nerazîbûna ku ew tê de dixuye. Mîrzayê Reben lehengekî wisa ye ku bi daxwaza dûrketina ji rastiyê, lêgerîna serpêhatiyên nû, hesta xeniqîna bi astengiyên jiyana wî a heyî re û jiyanên nakok ên mirovên îro diyar dike.
MÎRZA, JIYANEKÊ BI BINDESTÎ TEHEMUL NAKE
Romannûsa Suzan Samanci, ji perspektîfek realîst ve romana xwe nivîsandiye û bi vê xebata xwe serhildanek li dijî zagonên bingehîn ên jiyanê afirandiye. Di romanê de nivîskar bi serlehengê xwe Mîrza, bovarîzmê di nivîsên wêjeyî de, bi nemaze qehremanên civakê bi kar aniye û di cîhana xeyalî de ew li gorî xwestekên xwe bi xilasbûna ji rastiya xwe ava kiriye û hewldanên xwe yên veguherandina lehengan îfade dike. Di cîhana romanê de lehengê mêr ji daxwaz û xeyalên pêk tê, bi yekbûna û bi tiştên ku hebûna wan dixwaze bibîne, ev taybetî dibe mijara jiyana lehengê romanê û Mîrza gellek caran dibe qurbana daxwazên xwe. Mîrza, ji rewşa xwe nerazî ye û xwe ji kesên din cûdatir û çêtir dibîne û li pey xewnên ku bi şert û mercên jiyana wî re ne lihevhatiye digere. Yanî Mîrza, jiyanekê bi bindestî tehemul nake ku wiha bijî û ji rastiya xwe direve, ew dest bi jiyaneke bêexlaq dike.
Wekî ku hinek lehengên romanên klasîkên yên cîhanê bi demê re di nav çand û zimanên cîhanê de wekî lehengên balkêş ên wêjeyî cihên xwe digrin. Mîna; Anna Karanina, Roskolnikov, George Samsa, Mr. Bloom, Julien Sorel, Madam Bovary. Di wêjeya rûsî de jî Oblomovê Ivan Goncharov heye. Oblomov ne tenê derûniya mirovên lewaz ên rojhilatê vedibêje, lê di heman demê de dihêle xwendevan xwe di neynikê de bigerin. Dema vî karî dike, ew mirovên rojhilatî bi mirovên rojavayî re dide ber hev û tîrên rexneyê ber bi çand û şêwaza jiyana welatê xwe ve dike. Mîrza û Madam Bovary, her çiqas keştiya pirsgirêkên wan di zeryayek de hilbikişe jî, lehengê bi navê Julien Sorel ji dost hevalên wan e. Romana Stendhal "Sor û Reş" de Julien Sorel ji bo berjewendî yên xwe, xwe dike her kirasî û çavê wî jî her tim li ser jinên zîrek û dewlemend e, ji bo berjewediyên xwe her xerabiyê dike. Civaknasê Tirk Cemil Meriç di rojnivîskên xwe de dibêje, "Niha ku ez rastî Julien Sorel bihatima, minê wî bikuşta." Lê Suzan Samanci, Mirzayê Reben, nakuje…
BINEHIŞ MÎNA BÎREKE BÊBINÎ YE
Rihê Madam Bovary çawa wek dareke ku li ser avê diçe û tê, rihek, xam û ne têr ku parsekiya evînê dike, xwe diavêje himbêza mêran û herweha sero bino dibe, ji bo ku rihê xwe têr bike, cil û bergan distîne, pere xerc dike, êşa evînê dikşîne… Mîrza jî bi nexweşiya xwe ve mîna Bovaryê di romanê xwe dide der. Di derûnnasiyê de, lehenga Madam Bovary, bi navê "Nexweşina Bovarizm" tê bilevkirin. Mîrza ji wekî karakterekî diasporayê wê bibe, lehengekî derûnnasiyê. Ev çend hevokên di destpêka romanê da ji bo van gotinan mînak in. "Mirov aferîdeyekî pir sosret e, hînî her tiştî dibe, lê gellek caran jî xwe bi xwe dixapîne. Jixwe ti tiştek ji bîra mirov dernakeve, ew tişt qasî niçiklê derziyê be jî, paşê demekê ji deman bi şêweyekî din derdikeve holê… Binehiş mîna bîreke bêbinî ye. Asimanê bê dawî ye…" (12-13). Tûndiya hestkirina aîdiyetê kesên xwedî civak in û bi wê civakê re ava dibe. Di romanê de civaka ku Mîrzayê Reben têde dijî avakirina "xwe" li ser wê civakê dibe xwedî kesayeteke ku her kiryareke neyînî ya ku ji hêla wê civakê ve tê hesibandin an çêkirî bibîne.
Mîrzayê Reben bawer dike ger ew li Ewrûpayê bijî û bibe hemwelatiyê wir dê ji bindestiyê azad bibe û xwe aîdî wê civakê bihesibîne. Ango em dikarin bibêjin Mîrzayê Reben xwe wekî ziman, ol, koka etnîkî, kevneşopî û hwd yên civakê pênase dike. Li qadên wiha çiqas nêziktir were sazkirin, hestiyarî û bersiva wî jî ewqas xurt dibe. Têgînên "diyaspora" û "trawma'" du têgîn in ku hema hema bi hevûdu re têne bikaranîn. Jiyana li diyasporayê yek ji sedemên sereke yên travmaya çandî tê hesibandin. Travmaya çandî celebek diyasporayê ye û çavkaniyek xwezayî ya diyasporayê ye. Ji ber vê yekê, di navbera van her du têgehan de têkiliyek hevbeş heye yanê sedem-encam e. Em fam dikin ku Mîrzayê Reben, bandorek xurt a serdema jiyaye û nîşan dide. "Mîrza, heyranê jinên jêhatî bû lê nikarîbû bi wan re bimeşe, dostaniya wî bi wan re heta xistina li nav ciyan bû, piştre hêrsa xwe li wan dianî, bi zanebûn gotin û dijûnên dinyayê rêz dikir û paşê jin jê direviyan.'' Mîrza lehengekî wisa ye ku dixwaze hemî jin jê hez bikin û jin wî biecibînin û li pey wî bigerin.
Tenê bi têgihîştina serdema Mîrza re mirov dikare rastiya wî fêm bike. Meriv dikare bifikire ku ev diyardeyek nenaskirî ye û ji ber vê yekê nivîskar li ser lehengê xwe tiştek nû tîne zimên. Digel ku biryar û rastiyek gelemperiye jî, di navbera pejirandin û kirinê de cûdahiyek heye. Tevî ku biryar tê pejirandin, lê dibe ku çênebe. Rewşek bi vî rengî ji bo hin tespîtên girîng ên Fanon hene. Nerînên sereke yên Fanon li ser bingeha van her du tiştan têne çêkirin. Du pirtûkên girîng ên Fanon bi du mijarên bingehîn re mijûl dibin: Yekem: Divê kolonyalîzm ne tenê ji hêla aborî û leşkerî ve, lê belê divê ji hêla psîkolojiyê ve jî were çareser kirin. Dagirker psîkolojiya kolonîkirî xera dike, wî dike du-kes, wî ji mirovahiyê dûr dixe. Fanon di heman demê de bi nîjadperestiya ku perçeyek bingehîn a kolonyalîzmê yê re jî mijûl dibe, lê piştî bidawîbûna kolonyalîzma klasîk, di heman çarçoveyê de li dijî gelê berê yê kolonyalîst disekine. Ya duyemîn: Yên kolonîkirî tenê bi karanîna şîdeta li dijî mêtingehkar dikarin xwe ji kesayetiya dualî, kompleksa nizmîtiyê û nemirovî rizgar bikin. Ya ku li vir tê nîqaş kirin ne ev e ku welatê kolonyalîst tenê bikaranîn û bi tûndî dikarin serxwebûna xwe bi dest bixin û têkoşîna li dijî kolonyalîzmê tenê bi vî rengî dikare serfiraz bibe. Ev rastiyeke ku tê zanîn û bi gelemperî tête pejirandin heya serdema Fanon. Kolonyalîzm li ser bingeha şîdeta vekirî ye û dawiya wê de tenê bikaranîna şîdetê û bi rengekî zêde an hindiktir gengaz e. Li gorî Fanon, şîdet di heman demê de aliyekî wê yê derûniyê jî heye. Mirovê kolonyalîst ne tenê welatê xwe di heman demê de psîkolojiya xwe jî bi şîdeta ku li kolonîzatorê dike û xilas dike. Herweha dibe mirov. Mîrzayê Reben, ji civaka bindest tê civakeke ku di çavê wî dê ji bindestiyê rizgar bike an xwe ji psîkolojiya bindestîyê xelas bike. Lê belê nexweşiya wî ku her tim xwe piçûk dibîne û her tim dixwaze ji bilî vê bibe serdest û di derûniya xwe de xwe difetisîne. Bi gotineke din, şîdet ne rêyekê an ne çareseriyekê ku meriv serî lê bide ji ber ku ew mecbûrî ye. Yanê serîlêdana mecbûrî ye.
Bêguman, Mîrzayê Reben ne wêneyê mêrên ciwanê ku îdealên romantîkî dihundirê xwe dijîn, ji kesayetiyên mêrên normal û ji rêzê dûr e ku yek evîna rastîn û mezin dixwazin. Mîrzayê Reben, çi dike van baş difikire û bi van îdealan xwe di civakê de û di çavên jinan de xwe mezin dike. Mîrza li cem jinekê biyanî wekî segekî vediguhere mêrekî navîn ku neçar dimîne li parêzgehê jiyaneke banal bimeşîne. Jiyana ku wî xemgîn dike û gav bi gav xewnên wî binpê dike. Mîrza jiyana wî li cem hemî jinan xemgîn û bêhêvî, ew dest bi jiyaneke bêhêvî û dijber dike û ji derfetên xwe wêdetir dixwaze li cem wan jinan ji vê çarenûsa xwe ya xirab bireve.
Suzan Samanci, bi navgîniya wêneya Mîrzayê Reben ve diyar dike ka îdeala romantîkî ya mêrên dîyasporîk çi ye û… Mîrzayê Reben, bi rastî ne kesayetek erênî ye: ew xiyanetê li xwe û jinên li derdora xwe dike û neyarê xwe ye, neyarê xwe yê hundurîn nabîne, di jîyanek sexte da xwe dispêre welatparêziyê, rewşenbiriyê, lê belê wekî baloneke, çewalekî vala ye, bingeha wî xurt nîne, zanebûna wî, ansiklopedik û jiberkirin e. Lê belê, ez difikirim ku Mîrzayê Reben û Emma Bovary di heman cihî de şax dane, renginiya rihê wan hevûdu dihone.
Di eslê xwe de, ji ber vê yekê, tevahiya romanê de bi têbiniyên xwe yên neyînî li ser lehengê xwe Mîrzayê Reben dixe û di dawiyê de dev ji jiyana parêzgehî ya navîn berdide, dîsa jî bi cesaret li bextewariyê li cîhekî din digere. Bovarîzma Mîrzayê Reben bi nerazîbûnek domdar a ji rastiyê û bi hêviyên mezin û xwestekên kesê ku nayên bicih re di nava nakokiyan de ye û wisa jî dijî. Her ku hestên yekdestî, navînî û nerazîbûna ji jiyana rastîn zêde be jî, Mîrza di rihê xwe de bêhtir penaberekî bindest e, psikolojiya kolonyalizmê hişê wî zift kiriye, lê li neynika rastiyê nanêre û ew ji di vê ferqiyetê de nîne; rizandina rihê xwe hinekî bi welatparêziyê diteyine. Bi vî rengî, ew dest bi xewna jiyana evîna ku wî her dem xeyal kirî ve dibe. Her çiqas Mîrza ji rastiya xwe dûrketibe jî nivîskar wî dişîne Yewmanîstanê ba hevalekî wî ku ew bixwe kurd e lêbelê jina wî Yewman e. Hevalî wî tu car ji rastiya xwe dûr neketiye, hevjîna hevalê wî bi kurdiyek xwerû diaxive. Di vir de nivîskar, xeyal û rastiyê ji hev cihê dike. Ji ber ku di derûniya Mîrzayê Reben de, hîn jî nerazîbûn û bêhêvîtiyek mayînde heye. Cûdahiya di navbera hêvî û daxwazên ku bi gelemperî bêpîvan û çavbirçî de û rastiyê ji ber berovajî an dûrbûna ku di navbera her duyan de heye. Nîşaneyên Bovarîzmê di derûniya lehengê sereke yê romanê ve girêdayî ye. Di romanê nîşaneyên bovarîzmbûna Mîrza, wiha hatiye destnîşan kirin: Nivîskar, Mîrzayê Reben bi hêviyên nerealîst ku bi van sendromên wekî xeyal, hêvî û armancên ne realîst û bêpîvan hatiye afirandin ku ev dibe sedema perspektîfek derewîn a rastiya lehengê xwe. Hêrsbûn jî çêdibe dema ku rastî bersivê nede bendewariyên ku ji hêla mirov ve têne pêşkêş kirin di Mîrzayê Reben de dixuye.
MÎRZAYÊ REBEN WÊ LI HER WELATÎ RASTÎ JINÊN ZÎREK BE
Armancên ne mumkun û danîna armancên negihîştî jî di encamên dijwar yên Mîrza de didomin û saxbûna ji rastiya ku êş û ne rehetiyek dijwar de dijî an hatiye afirandin û ew xwe wisa serdest dike. Di kesayeta Mîrzayê Reben de, xesreta tiştên ku meriv nikaribe bigihîje heye. Xwestekên ku ne li gorî hişmendiya xwe û şert û mercên wî yên rasteqîn naxuyin lê belê li ser bingeha îdealîzasyonên takekesî de ne. Bêhna erêkirinê, ev meyl li ser bingeha pejirandina bijartî ya agahiyê û sererastkirina Mîrzayê Reben de li gorî bendewarî û ramanên xapandî de ye, ji ber vê yekê ew di dawiyê de ji civaka rasteqîn tê qewirandin. Ji hêla din ve, agahiyên ku dijberî rastiya xeyalî ne tên redkirin. Ji ber vê yekê nivîskar, şîrovekirinek bêalî ya rastiyê û bi hestekî û bi wendakirinê, bi darizandinê û bi rexneyekê objektif lehengê xwe tîne zimên. Înkarkirina rastiyê di Mîrzayê Reben de, înkar wekî stratejiyek hevgirtin û parastinê tê bikaranîn. Mîrza, bi vê sendromê ji rastiya heyî ku nikare tê de bijî an bisekine direve û ji ber vê yekê jiyana xwe di nava xeyalan de diafirîne û didome. Ev înkar dibe sedema nebûna berpirsiyariya kiryar û tevgerên mirovên bindest. Mîrzayê Reben ji xwebaweriyê, ji jiyana xwe ya rasteqîn û xwe-îdealîzekirine dûr e. Ew bi sînorên xwe nizane û herweha bi qelsiyên xwe jî nizane ji ber vê yekê her tim di jiyana xwe ya rasteqîn de têk diçe. Wekî din, bi gelemperî li hemberî pevçûneke piçûktir jî be reaksiyoneke dramatîk û zêde de ye û li hemberî mirovên din helwestek paranoîd de dijî. Romana Suzan Samanci "Mirzayê Reben" di wêjeya kurdî de lehengek mayînde ye. Mîrza, hinekî Madam Bovary, hinekî Julien Sorel, hinekî George Samsa ye. Mirzayê Reben, wê li her welatî, li her civakê, rastî me û rastî jinên zîrek be. Hêviya me ew e ku, jinên zîrek jî bila "Odeyek ji bo xwe" ava bikin û roman û çirokên mayînde binivîsin.